Ridley & Hall's Elderflower project supports The 50+ Show
---
Ridley & Hall's Elderflower project, Yorkshire's one stop shop for specialist advice for the so called "sandwich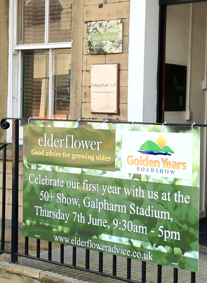 generation", is delighted to be supporting The 50+ Show at the Galpharm Stadium on Thursday 7th June.
Elderflower has been created by Ridley & Hall LLP. It is an umbrella service bringing together respected and regulated professional firms in Yorkshire. These include solicitors, financial advisers, accountants and bereavement counsellors. They work together to provide top quality legal, financial and bereavement advice for those planning for retirement or who are retired. Elderflower will be celebrating its first anniversary in June. Since its successful launch in 2011, the Elderflower team has given presentations to many local support groups and organisations, as well as providing advice to care homes across the county and national charities.
Adam Fletcher, Managing Partner of Ridley and Hall Solicitors commented:
"There are specific financial and legal issues that concern older people. The so called 'sandwich generation' may have teenage or adult children, and grandchildren as well as elderly parents to care for. Making a Will is an obvious step to protect your loved ones. And sorting out your finances for retirement is vital as well. The elderflower team work closely together to make sure that you get 'joined up' advice – this is what makes us unique, along with our friendly, approachable advisers"
Michelle Mitchell from the charity Age UK says that the affects of long term unemployment on the over 50's can be devastating arguing that people "can be pushed towards early retirement, often with inadequate pension provision, leaving them more dependent on the state and unable to contribute to the economy. It is vital therefore to make the best provision possible for retirement."
The 50+ Show will be a fantastic day out with a host of activities taking place from zumba to a Charity Casino, Golf to learning more about twitter and facebook. It costs just £1 with proceeds going to Kirkwood and Overgate Hospices.
The elderflower team would be delighted to meet you to have a free, informal chat about any legal or financial issues you have. For more information please contact Adam Fletcher on 0843 2895160.
---
Get in touch with us today.